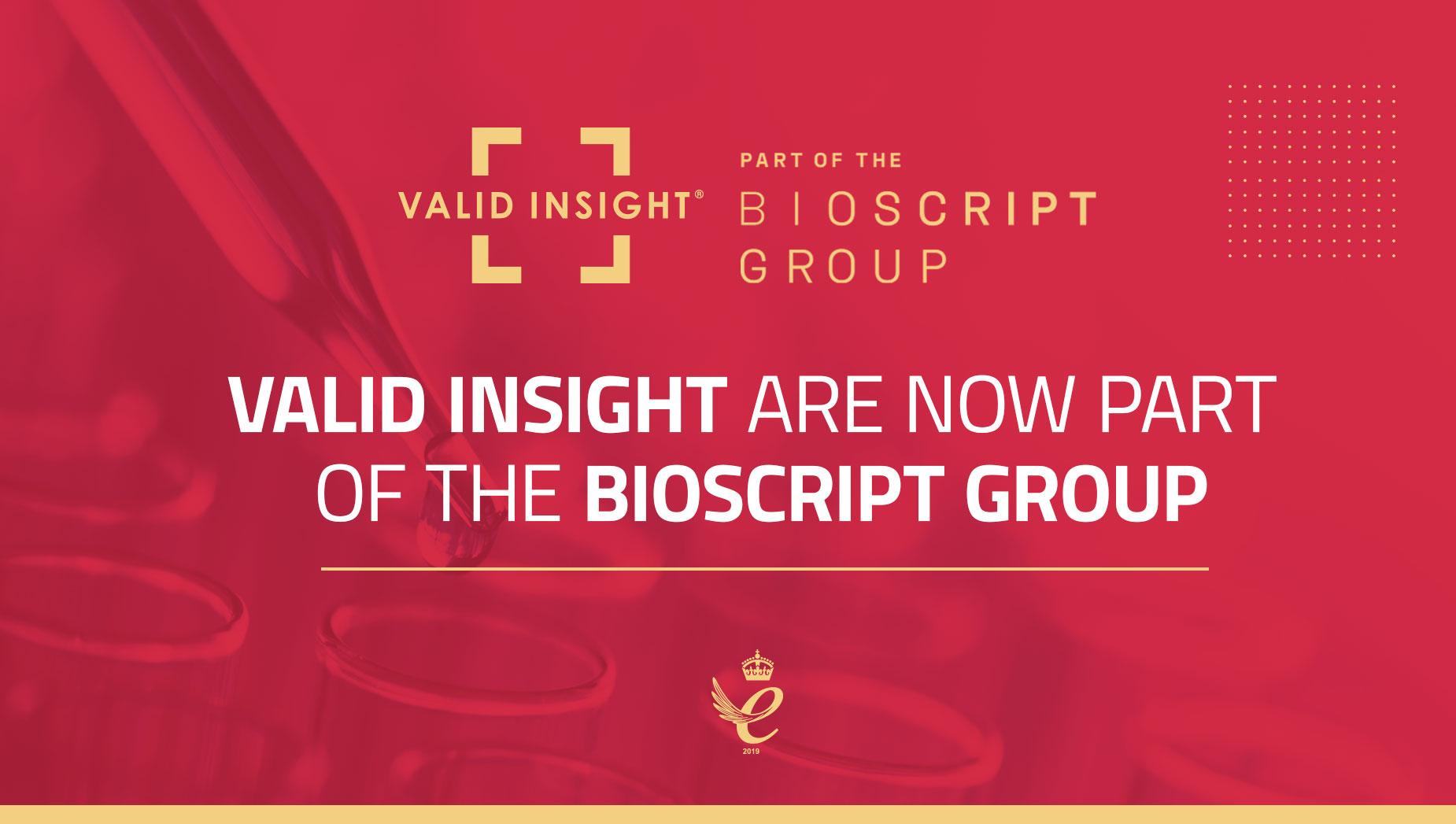 We Are Joining the Bioscript Group
August 10, 2021
Valid Insight
Valid Insight are delighted to announce that we are joining the Bioscript group.
Valid Insight will be the latest addition to the Bioscript Group as they extend their services in global market access consulting and payer value communications. We are looking forward to the exciting journey ahead and to building our partnership with Bioscript.
Valid Insight will be adding our deep knowledge of value strategy, international payer evidence requirements and value communication to the international group.
As well as Valid Insight, the Bioscript group have recently added Fortis Pharma, a fast-growing specialist medical communications, medical affairs, and marketing consultancy.
Extending the Breadth and Depth of Client Services
Now, across the broader group, our clients can benefit from a wider breadth and depth of offered services across the pharmaceutical product lifecycle, and by bringing additional capabilities in medical communications, regulatory writing, medical affairs, global market access strategy and payer value communications.
Andrew Medley, CEO of Bioscript Group said:
" … At a time of greater trial complexity, rising evidence demands, and tougher economic conditions our clients are looking to us to help navigate demanding access environments and optimise launch success."
"Our clients are increasingly realising the benefits of integrated services from one strategic partner," Andrew noted: "it helps them to streamline the product journey by responding dynamically to the evolving external environment through shared knowledge and insights."
He added: "Customers have always come to Bioscript for the quality of our services, a reputation we want to actively maintain and enhance.  … Valid Insight also have a fantastic reputation amongst their customers … . We look forward to working closely with their specialist teams for the benefit of our combined client base."
James Wright, Senior Director, Valid Insight said 'We have proudly grown Valid Insight into a strategic leader in global market access consulting. The culture, client focus and values at Bioscript are wholly aligned with Valid Insight, so I am confident this will bring growth and new opportunities for our employees and our clients. We very much look forward to working with the Bioscript management and Sovereign teams to contribute to long-term growth.'
The Road Ahead
Valid Insight will continue to specialise in delivering pricing, reimbursement, market access and payer value communication strategies through the full product development cycle, supporting our clients in providing optimal patient access to new and innovative health technologies.