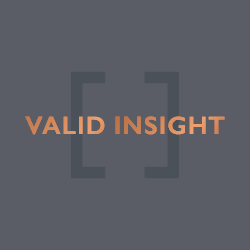 Announcing the launch of Valid Insight
February 14, 2016
Valid Insight
Dr Steve Bradshaw, leading a team of key life science advisors and market access experts, has launched Valid Insight, a new market access consultancy created to help companies navigate the challenges faced by drug developers seeking market access for new and innovative therapeutics.
Getting a new drug to market and to patients who need better medicines is becoming increasingly testing, and payers and health technology assessment bodies are demanding growing levels of evidence regarding the ability of medicines and health technologies to show real-world value.
Valid Insight's advisors have decades of specialist experience and business knowledge in market access, health economics, outcomes research, health technology launch, product pricing and reimbursement, and understand the complexity of the life science landscape and the challenges and hurdles faced by manufacturers, payers, prescribers and patients in demonstrating real-world value. The team will put their expertise to work to provide integrated research, analysis and strategy, in order to assess opportunities and risks for life science companies, and strengthen and sustain product value in the real world. Its core services are based on its wealth of real in-house expertise and on primary and secondary research, including real-world evidence and research with key opinion leaders and payers.
"We are investing considerable resources in developing our expertise, novel scientific methods and offerings, such as in real-world evidence, that help our clients optimise the commercial success of their products," said Dr Steve Bradshaw, Valid Insight Managing Director. "I believe that the launch of Valid Insight, and the market access experts we have on board, will help our clients to build the global landscape of tomorrow's healthcare environment, helping them deliver better outcomes to patients and society" says Dr Bradshaw.
Valid Insight will provide pioneering strategic consulting, research, analysis and value communication solutions to create insight into the market and clinical opportunity, develop evidence, communicate value and build and support centres of excellence through education and training.