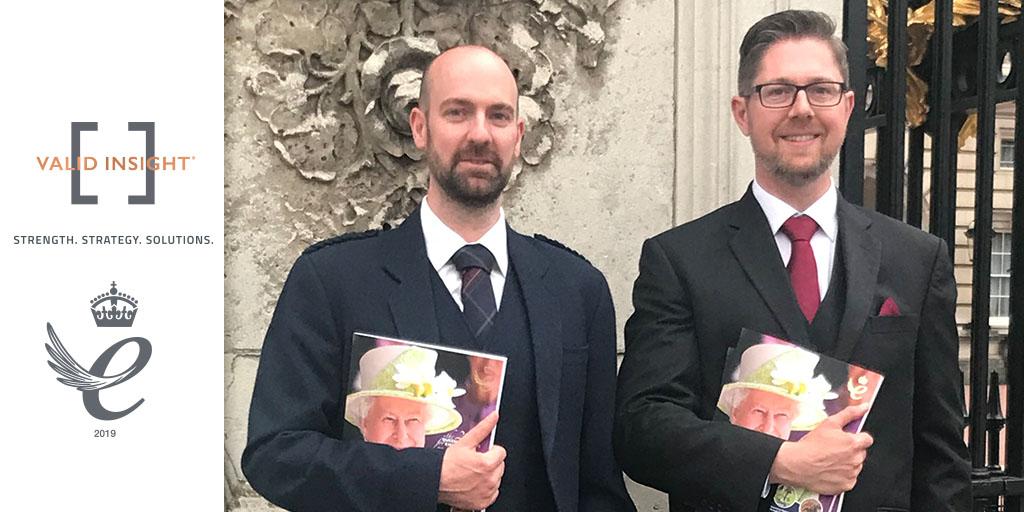 The Valid Insight visit to Buckingham Palace
September 2, 2019
Valid Insight
In April, it was announced that the Valid Insight team had been awarded the Queen's Award for Enterprise in International Trade. It was an amazing moment for us all. It was not only a testament to the team's hard work and indisputable expertise, but to our clients' trust in us to help them to keep advancing patient access to medicines.
The Queen's Awards for Enterprise are the UK's most esteemed business awards. Globally recognised, they're presented only to those demonstrating outstanding results in their field – the kind of recognition that is invaluable to us here at Valid Insight. And as winners, we were invited to an exclusive reception at Buckingham Palace hosted by HRH Prince Charles.
A once-in-a-lifetime experience
Attending an event at Buckingham Palace is an exciting opportunity, and that excitement was felt by so many attendees on the day – there was a real sense of anticipation before we arrived. The gravity of the occasion really hit home when we were told the code of conduct, we had to follow, and how to properly address the different (and important) people we were to meet.
As you can imagine, the gates to Buckingham Palace were swarming with tourists as we arrived. But dressed in our evening suits and holding our exclusive invitations, we were leaving them all behind, making our way into the incredible grounds. Naturally, inside the Palace is simply beautiful, with stunning artwork lining the walls – overall a lovely setting to celebrate our award win.
A celebration of innovation
While being treated to canapés and champagne, we were lucky enough to meet and engage with other award winners from all manner of industries. From pioneering technology companies to major players in motorsport, it was inspiring to be surrounded by representatives from so many other forward-thinking organisations, all dedicated to innovating in their industries.
We also had the opportunity to discuss our work with the Duke of Gloucester and other members of the Royal Family, sharing that what we do not only impacts directly on our clients' products' success, but accelerates and improves patient access to new and innovative medicines. And with more insight into our world, we were wished well for the future.
Throughout the evening we spoke with the judges and others involved in the Queen's Awards, and it was great to hear just how passionate they are about these accolades. Past winners were also at the event and spoke about how winning a Queen's Award had really reinforced recognition of the work of their organisations, within their industries, and led to further business success and growth – something that is very important to us here at Valid Insight.
Our awards ceremony
Our only regret of the evening at Buckingham Palace was that the whole of the Valid Insight team couldn't be there with us. However, we will soon be holding our very own awards ceremony where we will be officially presented with our award, and the whole team can celebrate together with a glass of champagne (or two). More details on this to follow…
Looking to the future
Winning a Queen's Award for Enterprise in International Trade is an achievement we will never forget. But as we look to the future, we're committed to continuing our year-on-year business growth; progressing in a direction that could earn us yet another Queen's Award in an additional category; adding to our recognitions with other great accolades; but most importantly, continuing to provide the highest standard of services for our fantastic clients.
To learn why we won the most coveted Queen's Award for Enterprise and what we can do for your market access, value and pricing strategies, call us on: +44 (0) 20 3750 9833 or email us at: discover@validinsight.com.