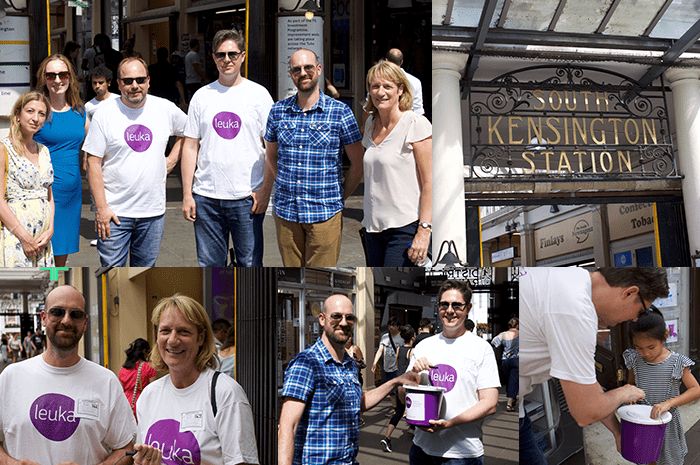 Rattling the tins: Valid Insight collects donations for Leuka
August 9, 2018
Valid Insight
Leukaemia is the 12th most common cancer in Europe, and the 11th most common worldwide. Leuka is a specialist leukaemia charity (now part of Leukaemia UK), investing in the next generation of leukaemia research talent in the UK and beyond. In 2017, Leuka raised nearly £1 million for research, and awarded £2.2 million to blood cancer specialist researchers and £1 million to help to launch IMPACT, a clinical trials network that focuses on improving stem cell transplant outcomes.
At Valid Insight, we help companies develop and commercialise better medicines, and there are many new innovations coming to market. But still, it's a simple fact that the pace of developing new treatments and cures can be limited by funding options, particularly at early stages of research and development.
"When we heard that Leuka needed help to raise money, I had no hesitation but to pick up the phone and say that our team can be your team for the day. It's a way we can give something back to help development of better medicines," said Steve Bradshaw, Managing Director of Valid Insight.
"Leuka relies on fundraising from companies and the public to support research into this vital area. Without support from people like Steve and his team, we can't continue to help life-saving research into the causes and treatment of leukaemia and other blood cancers," said Simona Abis, community and events fundraiser at Leuka.
About Valid Insight:
Valid Insight is a specialist global market access consultancy. With an international team that includes some of the world's leading market access and pricing experts, our clients trust us to help them navigate through the most challenging environments. We focus on pricing, market access and value communication strategy through the full product development cycle. Find out how Valid Insight can help deliver your strategy by contacting us: discover@validinsight.com
About Leuka:
Leuka's aim is to find a cure for leukaemia, and other blood cancers, by translating research into new treatments as quickly as possible so that patients can live better, longer lives. Despite being a small organisation, this is not a small aim. But in working towards a cure, we support the work of dedicated scientists and clinicians: professionals who are committed to providing the best treatment possible, who are undertaking the most advanced research into leukaemia and related disorders.
Leuka-funded researchers collaborate nationally and globally, for the greater benefit of patients here and abroad. To support Leuka go the Leukaemia UK website.