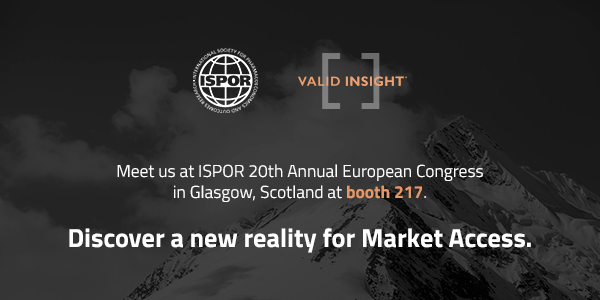 ISPOR 20th Annual European Congress
October 2, 2017
Valid Insight
For the second year in succession, we are excited and proud to be exhibiting at this year's ISPOR 20th Annual European Congress from 4th November to 8th November, 2017. Our team of Market Access, Pricing and HEOR experts will be available throughout the event which will be held at the Scottish Event Campus (SEC), Glasgow, Scotland.
If you would like to book a meeting, at the event, with one of our experts and learn more about how best to challenge your market access barriers, please contact us via discover@validinsight.com.
Alternatively visit us at booth 217.
We are also pleased to have three posters successfully accepted for presentation, as follows:
A critical assessment of ATMP market access outcomes on a national-level across EU5 countries 
Is the disconnect between European member state controlled compassionate use programs and the centralised EMA process creating an early access lottery for patients?
Maximum difference scaling to enhance insight in qualitative payer research