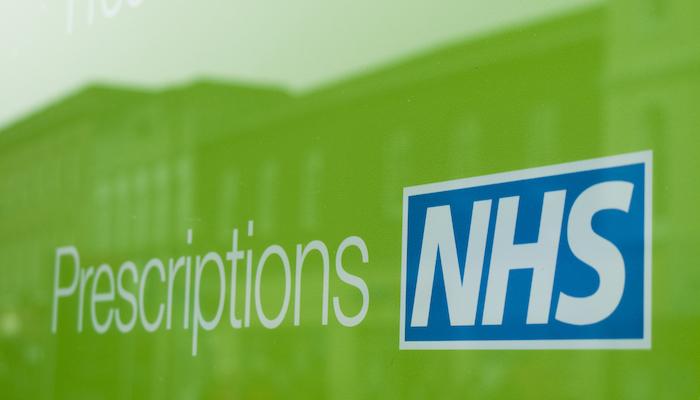 Drug charges in Scotland: the impact of free prescriptions
The National Health Service (NHS) was launched in 1948, by the Minister of Health, Nye Bevan, and was based on three key principles:
that it meet the needs of everyone
that it be free at the point of delivery
that it be based on clinical need, not ability to pay.
The evolution of charges in the NHS
The legislation at the core of the NHS is the 1946 NHS Act, which states that the NHS services should be provided free of charge unless that Act expressly provided for a charge.1
The 1949 NHS (Amendment) Act introduced prescription charges with limited exemptions which included people receiving National Assistance and their dependants. There were more exemptions put in place in 1965, relating to income level, medical status and age; these are similar to current exemptions in England.
Prescription charges remained in place across the UK until the mid-2000s. Scotland began reductions in prescription charges in 2007 and abolished them in April 2011. Charges remain in place in England, and rose to £8.80 in April 2018;2 however, in 2016 only 10% of prescriptions were charged either at the point of dispensing or through pre-pay certificates. This raised over £110 million.3
Understanding the impact of prescriptions charges
The cost can have an impact on the number of patients who fill their prescriptions, and this can, in turn, affect their health.
In a survey carried out in England by the Prescription Charges Coalition in May 2017,5 a third of respondents with long-term conditions who pay for their prescriptions had not collected prescriptions because of the cost, and over half of these said that missing medication had an adverse effect on their health.
One respondent said:
"I was 19 at the time and couldn't afford my medication for asthma. [I] ended up collapsing at work and [an] ambulance was called, and I was in hospital for a week. I stopped breathing and my heart stopped all because I had to pay for my asthmatic medication."
In a 2015 survey carried out by the Drug and Therapeutics Bulletin,6 in England, 88% of medical professionals thought that prescription charges deterred patients from getting their prescriptions; however, only 17% thought they should be abolished.
The change from fee to free: looking at the numbers
To understand the effect of seven years of free prescriptions in Scotland, with a particular focus on drug volume and overall pharmaceutical spending, we analysed the official publications from the Information Services Division (ISD) of NHS Scotland from 2006 through to 2016.4 This included reviewing total prescriptions dispensed, prescriptions per head of population and the cost of prescription medicines. We also wanted to be able to understand whether free prescriptions brought benefits to the individual, the healthcare system and society.
Figure 1. Total prescription items dispensed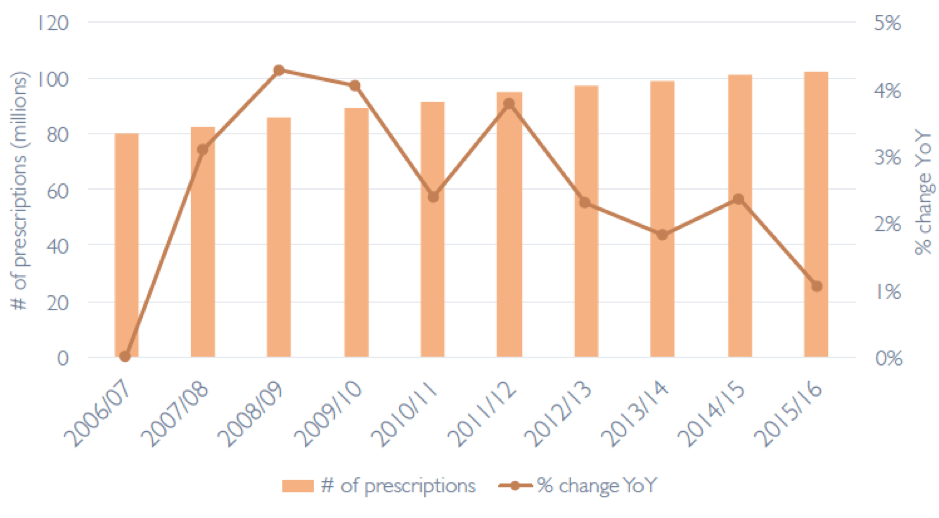 Before the gradual decrease in charges, in financial year 2007/08, prescription charges brought in £49.5 million to NHS Scotland – 4.6% of the £1,066 million total cost of prescription items dispensed that year. Since then, the net cost of prescription items fell sharply in 2012/13 following an increase in the availability of generic products, and then rose between 2013 and 2016 at a compound annual growth rate (CAGR) of 3.69%.
The gradual decrease in charges:
In 2006/07, there were just under 80 million prescriptions dispensed (see Figure 1), rising to over 100 million by 2015/16. The greatest rise in prescription numbers occurred between 2007 and 2011, as the prescription charges fell.
The biggest change was between 2007/08 and 2008/09, with a year-on-year rise of 4.2%, and over the period of 2006 to 2011, the CAGR was 3.52%.
Following the introduction of free prescriptions, the rate of increase more than halved, and the year-growth rate fell from 3.8% in 2011/12 to 1.1% in 2015/16.
The growth in number of prescription items per head of population has followed a similar pathway. Between 2006 and 2011, this rose by 2.85% CAGR, slowing to 1.22% CAGR between 2011 and 2016.
One justification proposed for the need for prescriptions charges is that they act as a deterrent to frivolous or inappropriate drug consumption. If this were true, we would expect to see a rise in the rate of dispensing in Scotland as prescription charges were withdrawn; instead we see slowing of that rate.
The patient benefits of free prescriptions
Moving to free prescriptions will have financial benefits for patients. It should also have health benefits, if adherence and compliance reflect the increase in prescription uptake shown in our analysis, though this would require a long-term study for confirmation.
The uptake seen in our figures is reflected in a 2014 report from the Scottish government8 that stated: "Latest figures show that since 2007/08, the number of items dispensed for long-term conditions such as asthma, Crohn's disease and diabetes has increased year-on-year, demonstrating the benefit of removing the barrier of cost".
Spain's older population have seen the impact of reintroducing prescription charges. In 2012, because of financial difficulties in health funding, Spain brought in cost-sharing reforms after three decades of free prescriptions for the elderly. A 2014 study showed that the number of prescriptions dispensed fell by more than 20% in some regions after these reforms, though how and if their health has been affected has yet to be understood.7
The flip-side of free prescriptions: the cost to the state
Maintaining free prescriptions, while it improves uptake of important treatments, does increase the cost to the welfare state. Reintroduction of prescription charges for older people reduced drug spending in Spain.7 NHS Scotland could gather in excess of £50 million of additional revenue through the reintroduction of prescription charges, which could be redistributed into other areas of the NHS. The NHS in England collects over £110 million in prescription charges, however the cost of administering the system isn't reported and therefore the real term income is unclear.
Pulling it all together: the overall impact of free prescriptions
Figures from the analysis of the official publications from the ISD of NHS Scotland showed that while there was a clear increase in prescriptions collected, as costs fell at the point of free prescriptions, this increase slowed. This suggests that there was a not-insignificant proportion of the population that were under or even untreated as a result of prescription charges.
It is important to balance the cost and the loss of income to the NHS of free prescriptions against the long-term cost benefits of a healthier population that needs less medical intervention and is able to continue working and contribute financially and socially to society. As a patient stated in the Scottish government report:8 "I need my medications to keep well and in work".
Following the abolition, the then Health Secretary for Scotland, Alex Neil, added:8 "Prescription charges were nothing more than a tax on ill health that Scotland's poorest families could ill afford, and I am proud that in Scotland we took the decision to improve access to prescriptions for all".
To discuss pricing or market access strategies, call us on: +44(0) 20 3750 9833 or email us at: discover@validinsight.com
References
House of Commons Library, 2018. NHS Charges, Briefing paper, Number 07227, 12/9/2018 [online]. Available: https://researchbriefings.parliament.uk/ResearchBriefing/Summary/CBP-7227 [Accessed 13/09/2018]
National Health Service, Get help with prescription costs, 2018. [Online]. Available: https://www.nhs.uk/using-the-nhs/help-with-health-costs/get-help-with-prescription-costs. [Accessed 13/09/2018]
NHS Digital, Prescriptions dispensed in the community – statistics for England, 2006-2016, published 29/06/2017 [Online]. Available: https://digital.nhs.uk/data-and-information/publications/statistical/prescriptions-dispensed-in-the-community/prescriptions-dispensed-in-the-community-statistics-for-england-2006-2016-pas. [Accessed 13/09/2018]
Information Services Division Scotland, Dispenser reimbursement, remuneration and volume [Online]. Available: http://www.isdscotland.org/Health-Topics/Prescribing-and-Medicines/Community-Dispensing/Dispenser-Remuneration. [Accessed 13/09/2018]
Prescription charges Coalition, 2017, Still paying the price [Online] Available: http://www.prescriptionchargescoalition.org.uk/uploads/1/2/7/5/12754304/still_paying_the_price_june_2017.pdf. [Accessed 13/09/2018]
NHS prescription charges DTB 2015;53:45-48
Puig-Junoy J, Rodríguez-Feijoó S, Lopez-Valcarcel BG. Paying for formerly free medicines in Spain after 1 year of co-payment: changes in the number of dispensed prescriptions. Appl Health Econ Health Policy. 2014 Jun;12(3):279-87
Scottish Government, Newsroom, Prescription charges [Online] Available: https://news.gov.scot/news/prescription-charges . [Accessed 13/09/2018]