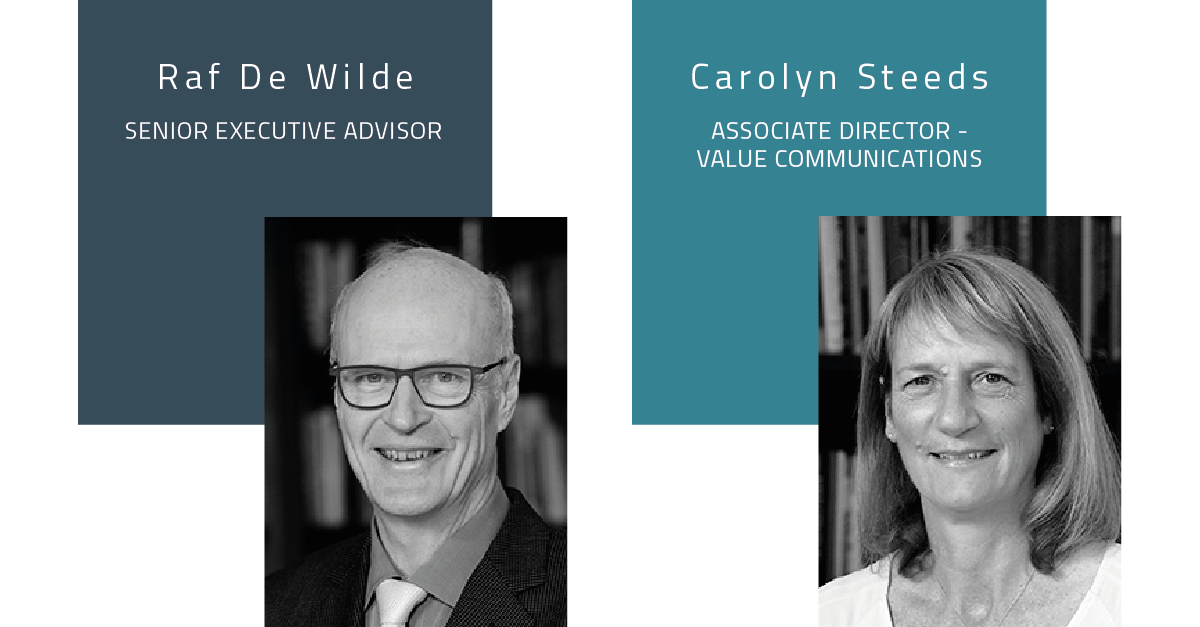 Developing the optimal value story for your product
On Thursday 30th July 2020, Valid Insight hosted a webinar on how to create a successful payer value story. A panel of experts (Brent Fraser, Vice President of CADTH, Pharmaceutical Reviews; Harry Wood, Former Director of Commissioning for a UK NHS Trust; and Marcus Dahlman, European Head of Market Access at Hansa Biopharma) provided their views on key considerations for product manufacturers when developing a value story to support pricing and market access activities.
What is a value story and what is it used for?
A value story should be a succinct, flowing narrative that addresses the key questions stakeholders ask when making decisions on the value of a new product. It should clearly communicate 'the problem': what burden (for patients, physicians, payers) is associated with the disease, the limitations of current treatments and the need for a new therapy. Based on this, the value story should then outline how the new product meets this need in terms of effectiveness, safety and quality of life. Is the product affordable and a good use of healthcare resources, i.e. good value for money?
The value story is both an internal and external resource. It helps achieve alignment within a company on realistic product value drivers and how these link to commercial opportunity. Externally, it is used to:
Help stakeholders understand the problem and where the product delivers added value
Drive market access processes (Health Technology Appraisals [HTA], reimbursement applications, formulary access)
Support pricing, reimbursement and market access negotiations at a national, regional and local level.
Payers use the company generated value dossiers as part of their review of a new product. There is a great deal at stake for companies to communicate their value story well, because value drives price. Companies need to achieve a fair price that reflects the true value of their product. Without a company value story, payer decisions will only be made based on cost and price.
What makes a good value story?
A clear, concise value story that meets the needs of all external and internal stakeholders is vital for market access success. A good value story should start with identifying the key decision makers and understanding their needs. It should be tailored to different stakeholder needs e.g. engagement with local decision makers requires an understanding of local issues and barriers to uptake, such as capacity, resource limitations.
"You need to localise and tailor the value story. There is a core structure but you need to understand the audience, their peculiar situation and country issues with respect to both the disease and care system" – Webinar panellist
The next step is to fully understand the evidence and build the key value messages supported by strong evidence. Claims that are not fully supported by robust data will not typically be considered by payers, particularly HTA.
"Sometimes, companies highlight the 'wrong' value that is not supported by the presented evidence – this could lead to negative recommendation" – Webinar panellist
This creates a tension between what payers want, particularly HTA, and what the company can deliver. For example, new products for rare diseases often require significant funding. Therefore, payers want to see strong evidence and a clearly defined patient population. However, for the company, few patients makes generating substantial clinical evidence difficult, and the value can be different across sub-populations such as paediatrics vs adults.
Value delivered should be built on the main clinical endpoints in the pivotal trials, but these must also relate to patient-relevant outcomes. Many companies focus too much on the clinical burden and less on the patient, with quality of life endpoints taking second place. Instead, companies should always consider, what does this mean for the patient? Additionally, side effects are often not fully addressed; it is important companies provide a balanced view of their product.
For a clear value story, it is important to explain the disease area well and not assume a level of knowledge by the payers. Clearly communicate the condition, how many people it affects, the burden (for the patient, treating physician, payer), how it is currently treated (current clinical practice) and where the product fits in the treatment pathway, to clearly identify the target population and the relevant comparator. From this, differentiation from competitors is crucial – it is important to prioritise a need that payers also consider a priority and is not already addressed by a competitor.
"Payers are experiencing cost pressures and would wonder why they should pay for the 3rd or 4th medication on the market [if there is no difference]" – Webinar panellist
A crucial part of developing a strong value story is to map the product value messages to the burden and unmet need. Highlighting areas of unmet need that are not addressed by the product dilutes the perceived value and confuses the messaging. Companies should also be clear where the value lies. For example, payers generally focus on the direct costs to the healthcare system and not indirect and societal costs. Therefore, if a product allows patients to return to work earlier, the value is humanistic rather than economic.
Finally, it is essential to test the value story with key decision makers to challenge the assumptions of where the real value lies. Companies often have a strong value story but don't communicate it well and the true value, which drives price, is lost.
When is the best time to start developing the value story?
Development of the value story should start as early as possible, often around phase 2, and evolves as new evidence is generated and pivotal clinical trials conclude. It is essential to maintain internal company alignment on the realistic value delivered throughout the evolution of the value story.
It is important to seek early advice from reimbursement authorities, both at the initial stage to validate your clinical trial endpoints, and later to pressure test the value drivers.
Early advice is key. It's not always about criticism…sometimes, payers are looking [to discuss] other factors beyond the applicant's proposals on what they think the best outcomes and value drivers are" – Webinar panellist
At Valid Insight, we have many years' experience of supporting clients with the development of the optimal value story. We understand the decision makers and develop a focused, realistic, differentiated, evidence-based value story that communicates the full value of a new product in a clear and concise manner, while always mapping the solution to the problem. We also focus on meeting company needs in a practical and realistic sense, ensuring all relevant internal stakeholders are involved in co-creating the value story, to provide optimum alignment.
Valid Insight's webinar series, Expert Insights, aims to address the key issues in market access and pharmaceutical pricing. Details of the next webinars can be found on our Events and News page.