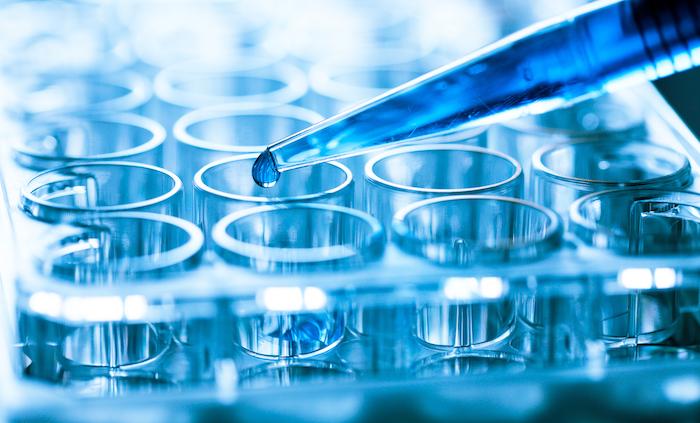 Biobetters: Market access opportunity?
Biobetters are biologics that have been improved compared to the marketed originator, for example in efficacy, safety, tolerability or dosing regimen. For regulatory approval, biobetters must meet the same data requirements as all other originator products, whilst only a reduced clinical data package is needed for biosimilars (Table 1). This produces time pressure for biobetters to make it to market before a biosimilar, to avoid the downward price pressure a biosimilar creates. The price pressure and cost of development brings the question to mind: are biobetters worth the investment?
Table 1 Summary of regulatory data requirements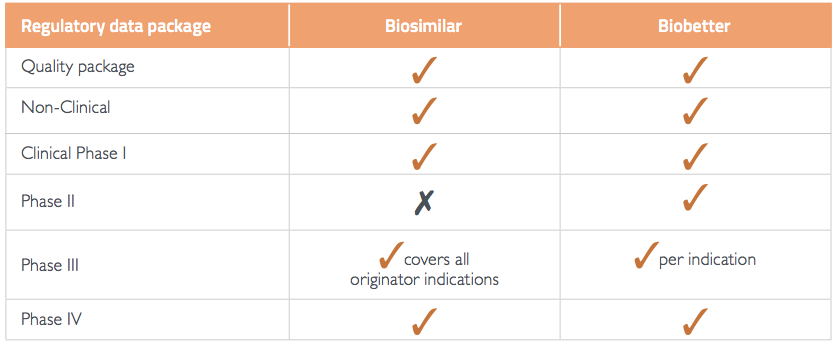 Source:1
Biologic modification through PEGylation
One way of improving the originator is through PEGylation – the modification of biologics by covalent conjugation with the polymer, polyethylene glycol (PEG). PEGylation can increase drug stability and reduce drug administration frequency.2 It has been used to adapt several biologics, including Methoxy polyethylene glycol-epoetin beta (Mircera®).
Mircera, used in the treatment of anaemia in Chronic Kidney Disease (CKD),3 was approved in 2007 by the European Medicines Agency (EMA)4 for once-monthly dosing as opposed to weekly dosing for the biosimilar version of epoetin alfa (Epogen®). While Mircera did not improve efficacy or patient quality of life, the reduction in dosing frequencies increases convenience for patients and may reduce healthcare burden.
Biobetter or 2nd generation product?
Another method to modify a biologic is biotechnical engineering to bring two chemical entities together.  In 2013, the biobetter of Herceptin, Kadcyla® (trastuzumab emtansine), received its first EU approval5 for HER2+ metastatic breast cancer patients who did not respond to Herceptin and/or taxane. Kadcyla is the engineered combination of Herceptin and DM1 (a cytotoxic chemotherapy agent).6
While Kadcyla demonstrated superior efficacy over Tykerb®6 (Lapatinib) in 2nd line treatment, it failed to demonstrate superiority over Herceptin in 1st line treatment (MARIANNE, NCT011201847). Although, in HER2+ breast cancer, it might appear that the 'biobetter' is not in fact 'better' than the originator, having failed to demonstrate superiority, as a 2nd line treatment for non-responders, Kadcyla represents an improvement in standard of care and therefore remains an important treatment option.
Ensuring market access for biobetters
Biobetters provide stepped up value to patients, such as increased convenience and further treatment options should disease progression occur. Therefore, biobetters have a chance for commercial success, but developing differentiated products will be of value. To achieve this, biobetters must address an unmet patient need or provide additional treatment options for non-responders. For example, Mircera met a previously unaddressed patient need by reducing dosage frequency, while Kadcyla gave an extra treatment option despite lack of superiority. Moreover, biobetters will need to enter the market before the exclusivity period of the patented reference biologic expires, to establish market share over price-driven biosimilars.
Biobetters are enhanced versions of originator biologics, which potentially offer added value to patients and payers. Premium pricing will be a barrier to patients gaining access to these innovative treatments, and so manufacturers need to put together the right evidence and strategy to secure market access. However, through targeting unmet patient needs, solid pricing negotiation, and apt timing, biobetters can be well-positioned for commercial success.
For a more detailed discussion on the impact of biobetters please call +44 (0) 20 3750 9833 or  click here to read a deeper dive.
References:
V. Sandeep, J. Parveen, P. Chauhan. Biobetters: the better biologics and their regulatory overview Int J Drug Regul Aff, 4 (1) (2016), pp. 13–20
Veronese FM, Mero A. The impact of PEGylation on biological therapies. BioDrugs. 2008;22(5):315-29
Medicines.org.uk. (2017). Mircera solution for injection in pre-filled syringe – Summary of Product Characteristics (SPC) – (eMC). [online] Available at: https://www.medicines.org.uk/emc/medicine/19960 [Accessed 06 June 2017].
European Medicines Agency. European Public Assessment Report – Mircera http://www.ema.europa.eu/ema/index.jsp?curl=pages/medicines/human/medicines/000739/human_med_000905.jsp&mid=WC0b01ac058001d124 [Accessed 06 June 2017]
European Medicines Agency. European Public Assessment Report – Kadcyla. Available at: http://www.ema.europa.eu/ema/index.jsp?curl=pages/medicines/human/medicines/002389/human_med_001712.jsp&mid=WC0b01ac058001d124 [Accessed 06 June 2017]
Medicines.org.uk. (2017). Kadcyla 100 mg & 160 mg Powder for Concentrate for Solution for Infusion- Summary of Product Characteristics (SPC) – (eMC). [online] Available at: https://www.medicines.org.uk/emc/medicine/28568 [Accessed 06 June 2017].
ClinicalTrials.gov [Internet]. Bethesda (MD): National Library of Medicine (US). Identifier NCT01120184, A Study of Trastuzumab Emtansine (T-DM1) Plus Pertuzumab/Pertuzumab Placebo Versus Trastuzumab [Herceptin] Plus a Taxane in Patients with Metastatic Breast Cancer (MARIANNE). Available from: https://clinicaltrials.gov/ct2/show/NCT01120184?term=NCT01120184&rank=1 [Accessed 06 June 2017]